https://www.gottfried-kaeserei.com/our-products/tebra/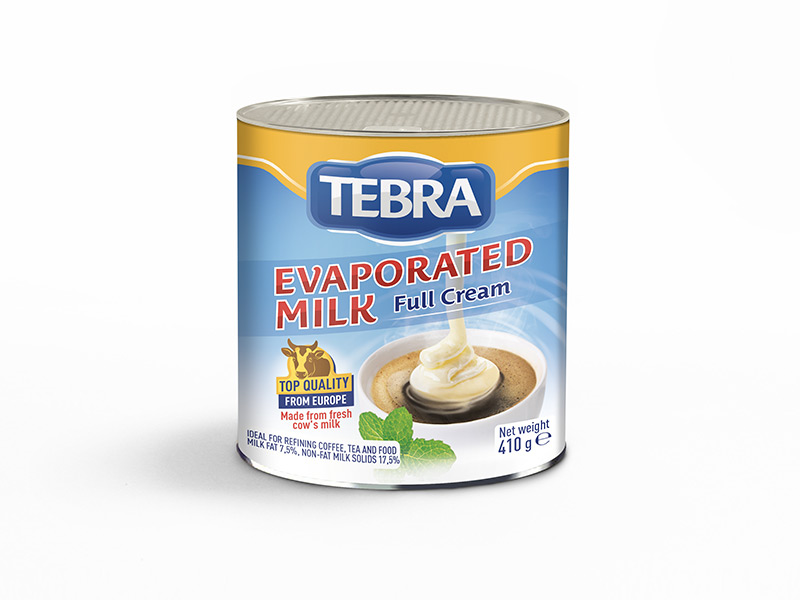 View Preparation & Other Details
View Preparation & Other Details
View Preparation & Other Details
NUTRITION INFORMATION
NUTRITION INFORMATION
NUTRITION INFORMATION
Contact Us
Tebra Evaporated Milk makes a rich, creamy and tasty addition to coffee, tea, cocoa and other beverages enjoyed with milk.
Non-GMO, our evaporated milk is made with the highest quality European-sourced milk.
Tebra,
Premium foods for health and enjoyment
regardless of age!
INGREDIENTS:
Milk, Stabilizers: E332, E339
SHELF LIFE & STORAGE CONDITIONS:
18 months
After opening keep refrigerated and use within 3 days
USAGE:
Shake the can well before opening!
WARNING:
Not suitable for people intolerant to milk and milk products.
NUTRITION
Average nutritional and energy values per 100 g:
Energy value, kJ/kcal
Fat, g
Saturated Fatty Acids
Monounsaturated Fatty Acids
Polyunsaturated Fatty Acids
Trans Fats
Carbohydrates, g
Sugars
Polyols
Starch
Fiber, g
Protein, g
Sodium, g
Salt (equivalent: Na×2,5), g
554 / 133
7.6
5.2
1.99
0.19
0.16
9.6
9.6
0
0
0
6.5
0.119
0.30